Chief Academic Officer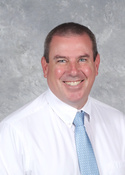 Steven F. DeArment
Chief Academic Officer
Michelle Siruc
Secretary & Mifflin County School District Homeless Liaison
Steven F. DeArment is an experienced educational leader who has served in the role of teacher, athletic coach, assistant principal, and now central office administrator. Mr. DeArment has a Bachelor of Science Degree in Biology from Dickinson College. He completed his Master's Degree at the University of Scranton and obtained his Superintendent's Letter of Eligibility from Drexel University. Mr. DeArment is currently a Doctoral Candidate at Drexel University. Mr. DeArment currently resides in Lewistown with his wife, Oksana, and his daughter Mackenzie.
Curriculum
Curriculum is the heart of the learning environment in the Mifflin County School District. Curriculum is a written map that ensures students receive integrated coherent learning experiences that supports the whole child. The Chief Academic Officer oversees K-12 curriculum. A committee assists the Chief Academic Officer in developing a plan and schedule to update curriculum regularly.
The Pennsylvania State Standards define what students should know and be able to do, which provides a framework for our curriculum work. From time to time, the state standards change and the district must adjust and change curriculum to be in alignment with these standards. Teams of teachers need to revise curriculum to keep instruction up to date and aligned for learners. Administrators and teachers also help select resources such as textbooks, technology, or other items the will be needed to support and teach the curriculum.
A curriculum review cycle aids the goal of keeping curriculum current every three to five years in subject areas. The school board reviews and approves any drafted curriculum before any instruction. This cooperative approach ensures the development of rigorous curricula for all students. Teachers plan daily lessons that reflect the written curriculum guidelines. Building level principals conduct teacher observations to make sure what is being taught is appropriate curriculum and utilizes instructional practices that are the most effective for student learning. Professional development assists staff in learning how to use the most effective practices.
The district currently utilizes an online platform called Chalk to develop digital maps.
Quick Links
Current Employee Access
Public Access
Pathway to Graduation
MCSD 2021-2024 Comprehensive Plan